How regenerative is your business model?
Let's find out with a great new tool created for this specific question: the Regenerative Index. With this tool you can assess the impacts of your business and quickly learn how to improve.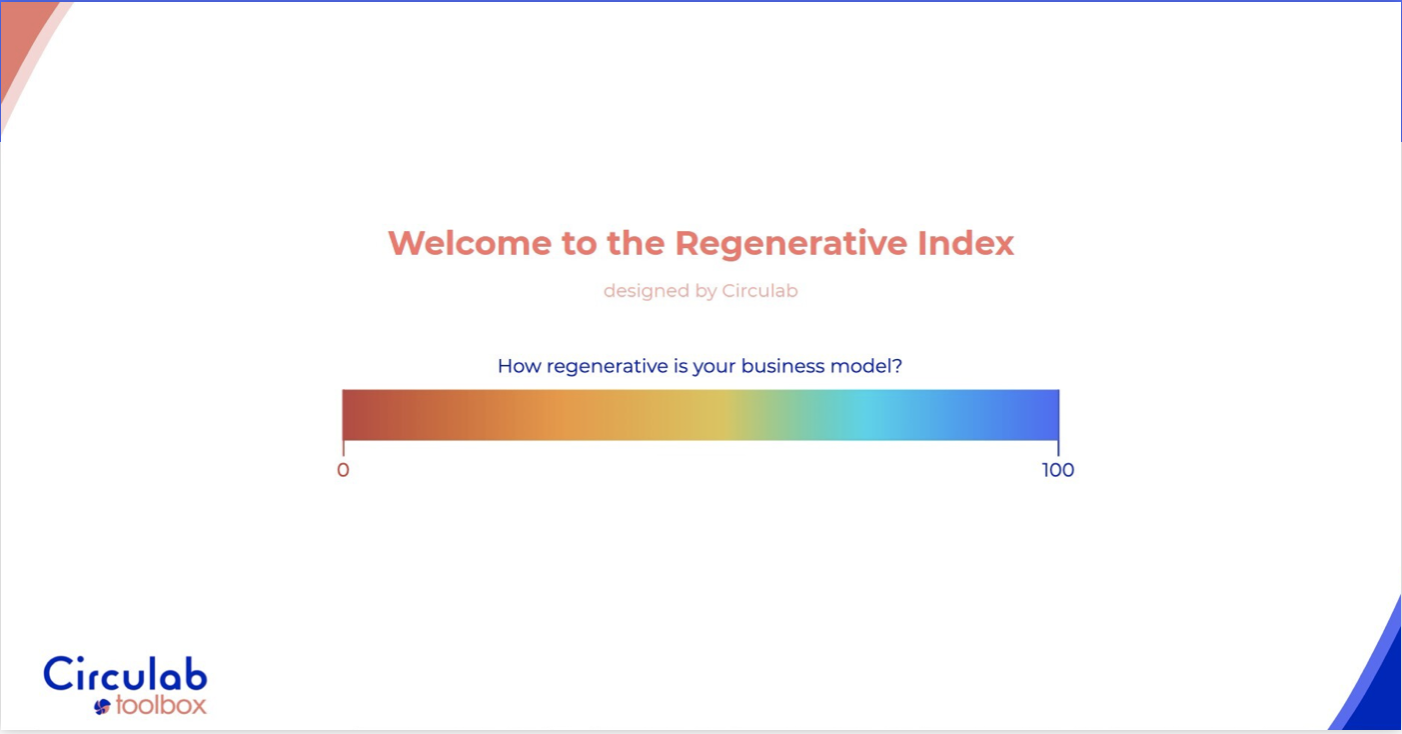 What is the Regenerative Index?
This tool has been created in response to a seemingly very simple question: is a specific business model regenerative or not?
In other words, it's a tool that uses a systems thinking framework to draw attention to the impacts of a certain business model on human and living ecosystems, resulting in a comprehensive evaluation of the regenerative aspect of a business model.
Business Intelligence

Get the right information to make informed data-driven decisions.
Fast and Effective

Get smart insights and results in only a few minutes.
Successfully Lead Change

With a systemic approach oversee all impacts and start the change!
Why use the Regenerative Index to evaluate your business?
Find out if your business model is regenerative or not and how to improve this regenerative aspect

Easily and quickly evaluate the impacts of your business model on human and living ecosystems

Complement a Life Cycle Analysis with a systemic perspective
How does the tool work?
The Regenerative Index takes the form of an exclusively qualitative survey which keeps a systemic, broad focus, instead of narrowly analyzing the product. In Circulab's systems thinking approach we tend to visualize processes in terms of material and energy flows.
The Regenerative Index follows this structure, individually dealing with three types of flows:
Inputs (during the extraction and procurement phases),

Production (during the production stage),

Outputs (during the distribution, use, and next use stages).
In this manner, the tool follows the natural course of the value chain, while avoiding narrowing the focus to the product / service alone. Thus, the results it delivers are comprehensive, clear, and easily actionable!
Who are we?
Circulab is an independent design studio and consulting agency which helps organizations transition towards the circular economy. Our three main pillars of activity are consulting services, tool development, and training conception.
What is our mission?
Since its founding in 2012, Circulab's mission has been to facilitate the adoption of the circular economy and the regeneration of ecosystems.
What makes us special?
Besides of course the amazing team at the agency, Circulab is supported by a community of over 100 certified experts. This diversity of territories and expertise, as well as the numerous successful projects we have been leading for more than a decade offer us a unique, global vision on how the Circular Economy can be activated and deployed. 
What do we understand by regeneration ?
By regeneration we do not simply mean the reconstruction of previous ecosystems. We take a more holistic approach, defining regeneration as the creation of conditions for ecosystems to survive and thrive, be they human or, more generally, living.
Why is impact measurement important?
In the past decades we have been increasingly witnessing the effects of our impacts upon living ecosystems. This is why, to be able to reverse the ongoing climate crisis, it is crucial that we begin by identifying and measuring the impacts of our actions a priori.